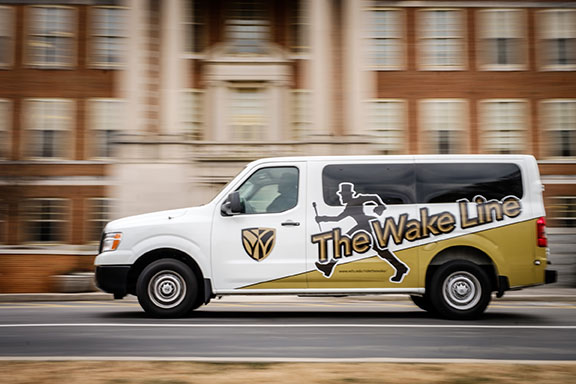 Service Hours
Thursdays 9:30 p.m. – 2:00 a.m.
During the academic year, Deacons Downtown provides evening service beginning at 9:30 p.m. on Thursday.
The last downtown pick-up is between 1:30 a.m. and 1:45 p.m. Service stops at 2:00 a.m.
Remember: The last shuttle leaves downtown for campus between 1:30 a.m. & 1:45 a.m. and service is paused (Driver Break) from 12:00 a.m. – 12:40 a.m.
Riders will be picked up and dropped off on campus at Shuttle Hub: Shelter A.
All buses will operate on a continuous loop and will stop only at the following locations:
WFU Shuttle Hub: Shelter A
Last Resort
Finnegan's Wake
Tate's
Deacons Downtown Service will be paused following dates:
Thanksgiving Holiday
During Winter Break
During Spring Break