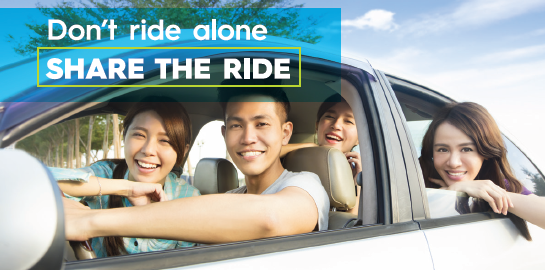 Find a carpool partner who's right for you.
ShareTheRideNC is a statewide ride-matching service sponsored by the North Carolina Department of Transportation (NCDOT) and the Piedmont Authority for Regional Transportation (PART).
---
Find Commute Matches
To continue your commitment to ride-sharing at Wake Forest, register with ShareTheRideNC and select Wake Forest as your primary affiliation. Remember, registering does not obligate you to carpool, but we hope it motivates you! This quick walk-through video explains how to register and start finding matches on STRNC.org or follow the three easy steps below.
SIGN-UP.

When you register, you get a FREE list of matches of people who live and work near you with similar work hours and who are interested in carpooling, just like you.

Contact your matches to find your preferred carpool partners. You can start by carpooling once a week or every day. You decide with your carpool partner:

How often you want to carpool
When and where you want to meet
Who will drive or if you will rotate driving
Other important carpool considerations

Give it a try!

The average American spends 434 hours (that's 18 days!) in a car each year. Wouldn't you rather spend this time with a friend? Carpooling enhances your social life and saves you money! See how much you will save with the Commute Calendar. You may also be able to save more by asking your insurance company if they offer reduced rates for driving less.
Worried about finding a ride in an emergency? We've got you covered. You simply need to sign up for the free Emergency Ride Home program so you can get a taxicab or a rental car ride home in case of an unexpected event.
Search now to see if someone else has entered your trip or login and be the first to post a trip!
Tips for a successful carpool, click here to learn more!