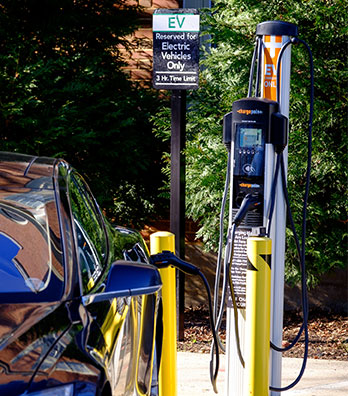 Wake Forest University welcomes faculty, staff, and students using electric vehicles. We offer several charging stations for your use.
All charging stations can accommodate the charging of two vehicles at a time and are level 2 chargers. Charging a vehicle is free with a three-hour limit per 24 hours. We encourage all users to charge their vehicles whenever needed but ask that everyone relocate their vehicle when charging is complete so that others can use the limited stations available.
---
Charging Station Locations
Parking Lot U2
Parking Lot W1
Gully Drive
University Corporate Center (UCC)
Activation Information
Charging stations are locked, but can be activated in various ways:
Call 888.758.4389 (24/7 ChargePoint Driver Support)
Download and use the ChargePoint mobile app
Call Transportation and Parking Services at 336-758-PARK (7275) to obtain a ChargePoint activation card.

Monday-Thursday: 8:30 a.m. to 4:30 p.m.
Friday: 8:30 a.m. to 3:00 p.m.

For a single charge, call Transportation and Parking Services during business hours.
After business hours weekdays and weekends, contact ChargePoint Driver Support at 888.758.4389