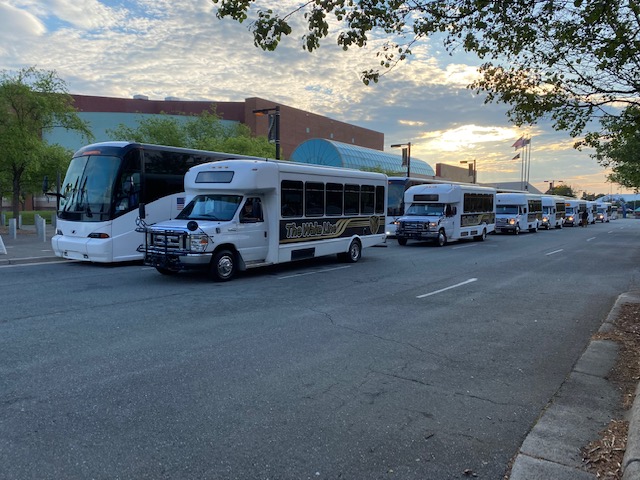 Transportation & Parking Services offers shuttle bus rentals to departments sponsoring a University event.
Rental requests can be made by faculty and staff through Work Day. Approvals of such requests are subject to vehicle availability and must be requested at least one week in advance.
(Once you are in Workday, first go to the "Purchases" application on the home page. There you will find two columns of choices in which you will need to click on the "Create Internal Service Delivery" button and follow the instructions there to complete the form.)
---
Rates
Shuttle bus daily rate:
The minimum charge of $200.00 ~ includes one shuttle, driver, and 3-hours of services.
(Driver allotted 30 minutes for pre-trip to destination and 30 minutes post-trip.)
Driver hourly rate:
$65/hr. with a 4-hour minimum (Each additional hour or partial hour thereafter will be charged based on the original applied hourly driver rate).
Waiting time between passenger drop-off and pick-up will be billable, as the driver will have to remain available.
Policies & Restrictions
All bus rentals are subject to vehicle and driver availability.
One (1) week notice is required to accommodate requests. Requests with less than one (1) week's notice may be unsupportable.
Cancellations made 24 hours prior to the start of the rental will not be charged.
If canceled within 24 hours of the start of the event, the minimum 2-hour driver rate of $130.00, and the $200.00 bus rental fee (if applicable) will be charged.
Buses are restricted to the Winston Salem geographical area.
Expenses that occurred because of damage or excessive litter/debris will be charged to the renting department.
For the safety of other passengers and the driver, drivers are allowed discretion to remove passengers displaying inappropriate behavior or language.
Buses will not run if roadways are unsafe for passage because of inclement weather and there will be no charge for cancellation.
Requesting department is responsible for providing the driver with all event routes, schedules, proper documentation for driver/bus access, associated parking fees, and notification to passengers of pick-up/drop-off locations.