Alternate Modes of Transportation for
Business I-40 closure
Stop #6 on this route is located near Innovation Quarter (5th & Patterson). Once at this location, it's just a short walk to catch the Wake Downtown shuttle in front of the Innovation Quarter Building on Vine St. for a short ride to Wake Forest University. The schedule for the Wake Downtown shuttle can be found at
https://parking.wfu.edu/ride-the-wake/wake-downtown-shuttle-schedule/.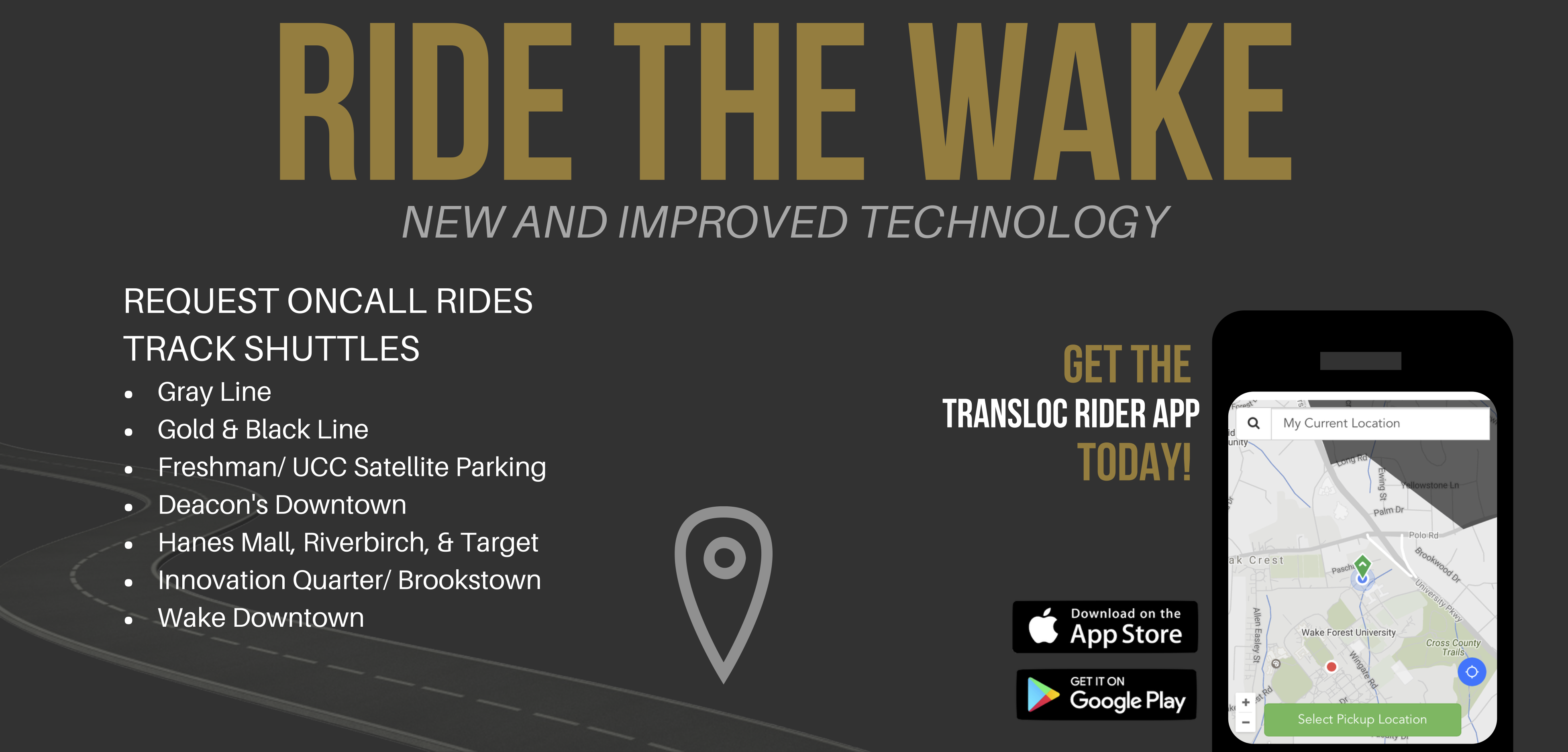 Real-Time Bus Tracking and OnCall Demand Programs
Transportation and Parking Services introduces improved technology that tracks shuttles in real-time and offers enhanced safe-ride on-call demand service.
Wake Forest Transportation and Parking Services adopted a new app that it encourages all shuttle riders to download and begin using immediately.  The app is designed to make the shuttle service more convenient for all riders, including those who take advantage of the OnCall service launched last fall.
The TransLoc Rider app replaces the RidetheWake app that has been associated with Wake Forest's shuttle system for years.  Transportation and Parking Services asks that shuttle riders drop use of the old app now in favor of using the new one.
One of the most significant advantages of the TransLoc rider app is that it provides riders with real-tracking of the shuttles in service. Riders know where the shuttles are and when they are expected to arrive.
For those using the OnCall service, also known as Safe Ride, here are some advantages of the new app:
Replaces calling a cell phone for a ride
Use the TransLocRider app to schedule a safe ride from your smart phone
During the summer (May 8 – August 25) Safe ride available Monday – Friday 7:00 a.m. – 7:00 p.m.
See your location and your vehicle's location on a map in real-time.
More information on service areas, review our service area map.
Shuttle Finder
Click on the Track Your Bus Live button below to view real-time RidetheWake shuttle tracking.