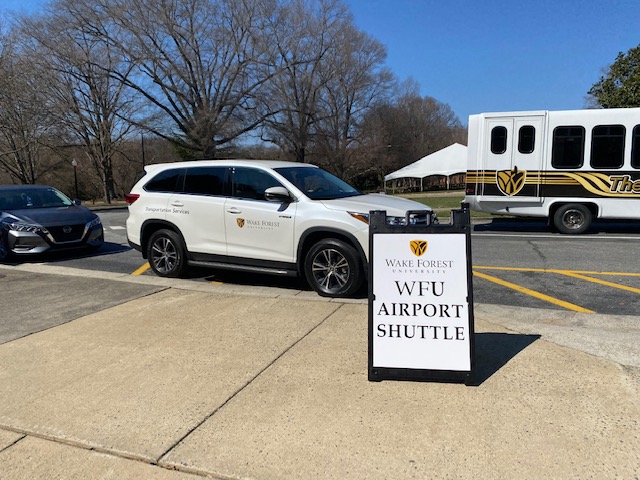 Transportation & Parking Services offers airport shuttle transportation during designated break times throughout the school year.
Service is provided both to and from, Greensboro's Piedmont Triad International Airport (GSO-PTI) and Charlotte's Douglas International Airport (CLT).
Transportation and Parking Services offers a limited level of service at a low cost and supplements the service provided by Black Tie Transportation.
*If a reservation is needed outside our posted schedule, a reservation can be made through Black Tie Transportation.
---
Travel Information
Arrival / Departure Info: Pick-ups & drop-offs are within the campus and the airport terminal.
Traffic Delays:
Travel times to the airports we serve are a minimum of 45 minutes (Greensboro) or 1.5 hours (Charlotte). Major highways used to reach these destinations are often subject to traffic delays from road construction or accidents. Transportation and Parking Services assumes no responsibility for issues caused by traffic delays, as these are completely beyond anyone's control.
Lost Items:
Transportation and Parking Services assumes no responsibility for items lost or left behind on shuttles. If lost items are discovered in vehicles, they will be taken to the Transportation and Parking Services office and held for 30 days. Students may call, 336-758-7278, or visit the office to inquire about such items. Students should therefore pay extra attention to the location of their important personal items (such as phones and wallets) while riding on our shuttles.
Illness/Intoxication on shuttles:
Transportation and Parking Services will charge a cleaning fee to any student who damages a shuttle through vomiting, whether due to illness or intoxication. This fee will be assessed based on the amount of damage and the number of incidents of vomiting and can range up to $100. Therefore, if a student is aware of being ill with a stomach virus or flu, he or she should inform the driver immediately and be prepared to handle the possibility of vomiting by bringing a plastic bag or another receptacle. In addition, Transportation and Parking Services reserves the right to refuse service (without refund and at the driver's discretion) to any student arriving for a reservation in a state of obvious intoxication.
Cancellations/Changes:
Always turn on your cell phone prior to your transportation reservation. If the driver cannot locate you, he or she will contact you by phone. After multiple phone calls, if you still cannot be located and have not contacted the dispatcher, the reservation will be marked as a "no-show". In these cases, no transfer credit can be issued and the reservation is forfeited. Please email Transportation and Parking Services at shuttles@wfu.edu within 24 hours of your flight to cancel or change a reservation. There will be no exceptions to this rule.
All other changes or cancellations: Reply to the email confirmation you received and tell us about your changes. Our staff will process your change(s) and you will receive a new confirmation. We cannot accept changes/cancellations by phone.
If you have questions about changes or cancellations, feel free to contact us by email at shuttles@wfu.edu.
Refund Policy:
Reservations canceled according to our cancellation policy are eligible for a refund. All cancellations will be confirmed with Transportation and Parking Services staff prior to a refund being issued.
Refunds are processed at the first of each month for the previous month. All refunds will return to the card used to purchase services. Please keep in mind that refunds will only be issued for reservations canceled 24 hours prior to departure.